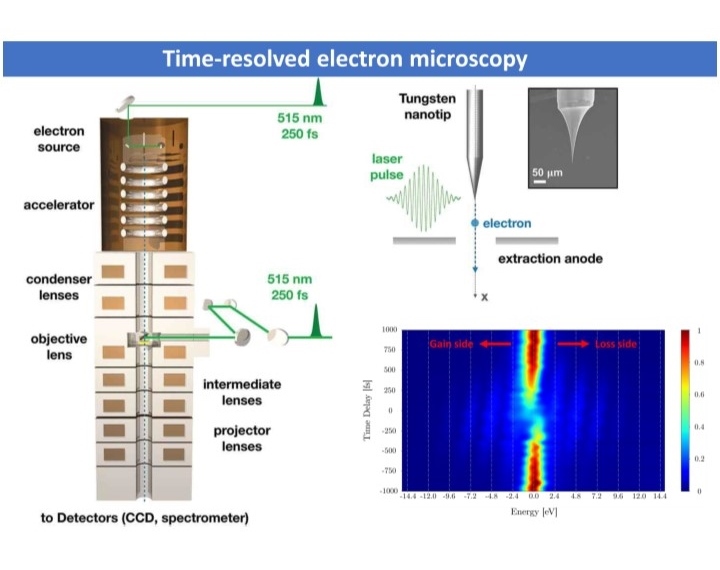 Speaker:
Dott. Giuseppe Mario Caruso
Abstract:
Probing the ultrafast dynamics with a sub-nanometric and sub-picosecond spatiotemporal resolution: Ultrafast Electron Microscopy
Giuseppe Mario Caruso 
Electron Microscopy (EM) is a powerful and versatile technique allowing to obtain morphological, structural, chemical and field information of specimens at the nanoscale [1]. Nevertheless, despite the implementation of fastest cameras, the investigation of the material dynamics is limited to the millisecond timescale. Ultrafast EM overcomes this limitation. Combining the excellent temporal properties of ultrafast lasers or ultrafast electrostatic beam blankers it is possible to trigger a pulsed electron beam with ultrashort electron pulses and push the temporal resolution of the instrument to the picosecond timescale and beyond.
Several strategies to investigate material dynamics at the nanoscale with a sub-picosecond time resolution will be presented, in both Scanning Electron Microscopy (SEM) and Transmission Electron Microscopy (TEM). Ultrafast Scanning Electron Microscopy (USEM), firstly developed in CALTECH [2] has been improved in AMOLF afterwards, allowing TimeResolved Cathodoluminescence (TR-CL) spectroscopy to acquire CL decay traces and the autocorrelation function g(2) of the CL signal [3]. The first Ultrafast Transmission Electron Microscope based on a Cold FEG emission source, recently developed at CEMES-CNRS [4], allows to perform time-resolved ultrafast pump-probe TEM experiment exploiting a high coherent ultrafast electron beam [5]. We will show the performances of such an instrument as well as the first experimental results obtained by Electron Energy Gain Spectroscopy (EEGS). Some outlooks on future applications will be given.
References
Williams, D. B. & Carter, C. B. Transmission Electron Microscopy: A Textbook for Materials Science. (Springer US, 2009).
Yang, D.-S., Mohammed, O. F. & Zewail, A. H. Scanning ultrafast electron microscopy. Proc. Natl. Acad. Sci. 107, 14993–14998 (2010).
Meuret, S. et al. Complementary cathodoluminescence lifetime imaging configurations in a scanning electron microscope. Ultramicroscopy 197, 28–38 (2019).
Caruso, G. M., Houdellier, F., Abeilhou, P. & Arbouet, A. Development of an ultrafast electron source based on a cold-field emission gun for ultrafast coherent TEM. Appl. Phys. Lett. 111, 023101 (2017).
Houdellier, F., Caruso, G. M., Weber, S., Kociak, M. & Arbouet, A. Development of a high brightness ultrafast Transmission Electron Microscope based on a laser-driven cold field emission source. Ultramicroscopy doi:10.1016/j.ultramic.2017.12.015