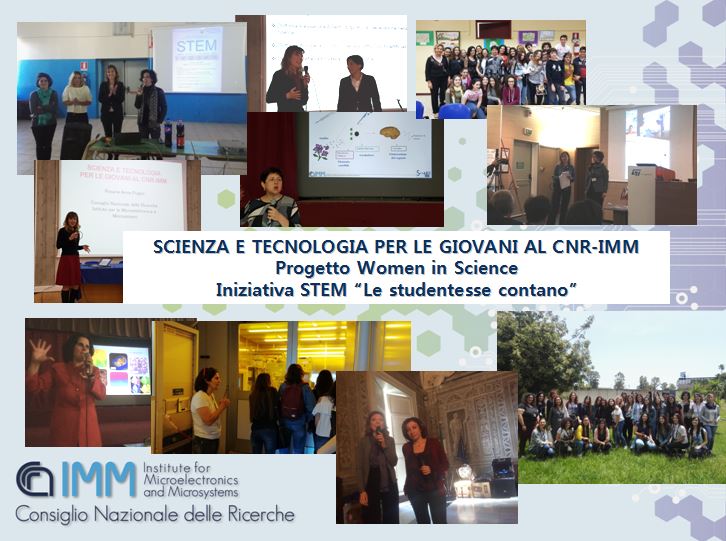 STEM WOMEN IN SCIENCE
SCIENCE AND TECHNOLOGY FOR WOMEN
AT CNR-IMM
IMM proposes for the 7th consecutive year the project STEM Women in Science. Originally written for the "STEM" initiative of the Dipartimento per le Pari Opportunità (DPO), the project aims at carrying out scientific seminars held by the female researchers of our Institute.
The seminars objective is to show the latest scientific results in the nanotechnology field and to witness the Researchers experiences in the scientific world. In the past project editions, we also hosted, in our Catania labs, High School students for a visit. To always welcome new contributions and ideas, CNR-IMM collaborates with speakers from STMicroelectronics Catania, the University, and with sociologists to discuss social conditioning (beliefs, stereotypes and prejudices) and their effect on educational and professional choices.
Visit our website (https://hq.imm.cnr.it/womeninscience) to see a selection of events held in past years and those scheduled for this year.
Coordinator: Rosaria A. PUGLISI
Project: PROPOSTA STEM CNR-IMM 2022-2023 (pdf)
---
STEM WOMEN IN SCIENCE
SCIENZA E TECNOLOGIA PER LE GIOVANI
AL CNR-IMM
L'IMM propone per il settimo anno consecutivo il progetto STEM Women in Science. Scritto originariamente per l'iniziativa "STEM" del Dipartimento Pari Opportunità del Governo (DPO), il progetto è rivolto alle Scuole Secondarie di Secondo grado e agli Enti del territorio, e prevede di effettuare dei seminari tenuti dalle Ricercatrici del nostro Istituto.
L'obiettivo dei seminari è quello di testimoniare le proprie esperienze nel mondo della scienza, partendo da come si sono svolti i propri percorsi formativi. Il progetto ha anche previsto negli anni passati di ospitare presso la nostra sede di Catania un pubblico di studentesse dell'ultimo anno della Scuola Superiore. Per dare sempre il benvenuto a contributi e idee nuove, il CNR-IMM collabora con relatrici di STMicroelectronics Catania, dell'Università e con sociologi che relazionano sui condizionamenti sociali (credenze, stereotipi e pregiudizi) e il loro effetto sulle scelte formative e professionali.
Visitate il nostro sito web (https://hq.imm.cnr.it/womeninscience) per vedere una selezione degli eventi tenuti negli anni passati e quelli programmati per quest'anno.
Coordinatrice: Rosaria A. PUGLISI
PROPOSTA STEM CNR-IMM 2022-2023 (pdf)