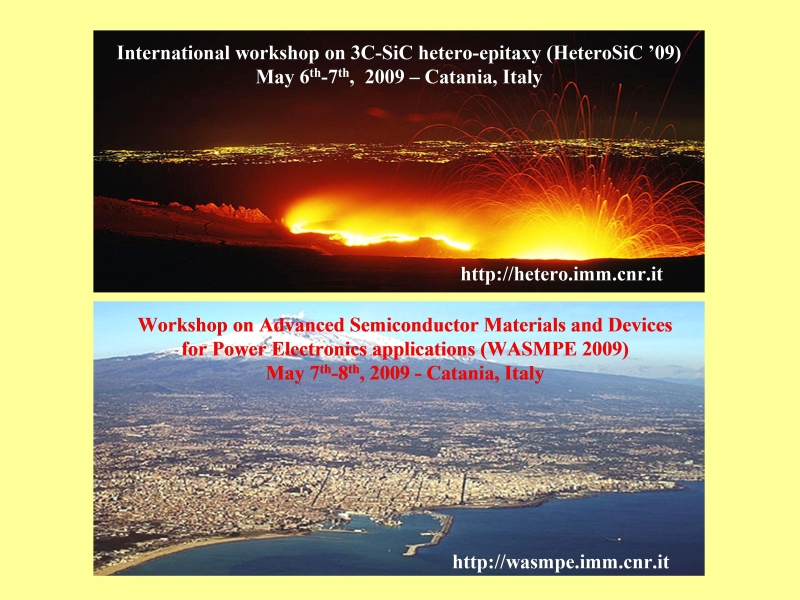 The third International Workshop on SiC hetero-epitaxy (HeteroSiC '09) and at the third Workshop on Advanced Semiconductor Materials and devices for Power Electronics applications (WASMPE '09) held jointly in Catania on 6-8 May, 2009, organized by CNR-IMM.
HeteroSiC '09 was a follow-up of the previous editions of the European Workshop on SiC Hetero-epitaxy (HeT-SiC) held in Krippen, Germany (2005) and in Grenoble, France (2007). The aim of the workshop was to have a dedicated forum on SiC hetero-epitaxy to effort all the specific subjects related both to the possibility to grow SiC on other materials and to grow different SiC polytypes to take advantage of the possibilities in band-gap engineering.
WASMPE'09 followed the first edition held in Barcelona, Spain (2005), and the second one held in Olbia, Italy (2007). The workshop discussed the latest developments in Silicon Carbide (SiC), and prospective beyond SiC such as Gallium Nitride (GaN) and Diamond for power and RF electronics.
The concomitancy of the two events provided a larger forum for scientists and engineers coming from public research institutions and industry, contributing to the success in term of number of participants (122 participants from 11 countries) and scientific level of the proceedings (more than 70 submitted abstracts from over 32 research institutions and 13 industries).
Hetero-SiC – WASMPE 2009 was organized in the framework of the European Marie Curie  Research Training Network MANSiC.