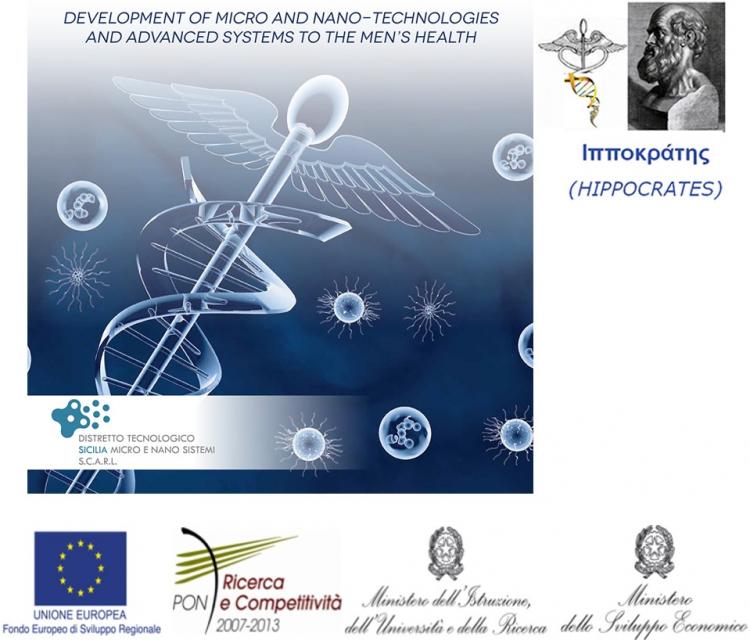 Hippocrates was a project by Distretto Tecnologico Micro and Nano Sistemi Sicilia S.c.a.r.l. (Sicily Technologic District Micro and Nano systems) sponsored by MIUR (Ministero Istruzione Università e Ricerca) with PON R&C (Programma Operativo Nazionale "Ricerca e Competitività" 2007-2013) funds.
It aimed to develop, test and validate innovative systems based on micro-and nano-technologies, with the final goal of an early detection, prevention and effective treatment of diseases. Moreover, the project aimed to launch the adoption of a patient-centric model through the construction of an integrated software infrastructure.
The project addressed three, main research lines:
Development of advanced technological solutions for in vitro diagnosis: Biosensor for nucleic acid and proteins;
Development of "smart" molecular drug delivery systems for targeted and effective pharmacological therapy;
Development of a specific ICT infrastructure for the direct transmission of clinical data of biosensors and drug delivery systems to electronics health record.
For the proper development of these innovative technologies are identified appropriate clinical application fields, both in diagnosis and therapy. These define the clinical target requirements to develop the research and to validate the final results of the research. These applications are selected based on:
Clinical relevance of diagnostic/therapeutic targets (clinical utility) unmet by the current detection/drug delivery technologies available on the market (clinical gap);
Sicilian region specific clinical requirements and industrial peculiarities;
Relevance of reference markets,
 Partners involved:
Consorzio Catania Ricerche (CCR)
Consiglio Nazionale delle Ricerche (CNR)

Istituto di Biostrutture e Bioimmagini (IBB)
Istituto di Biofisica (IBF)
Istituto di Biomedicina ed Immunologia Molecolare "Alberto Monroy" (IBIM)
Istituto di Chimica Biomolecolare (ICB) 
Istituto per la Microelettronica e Microsistemi (IMM)
Istituto per i Processi Chimico-Fisici (IPCF)
Istituto per lo Studio dei Materiali Nanostrutturati (ISMN)
Istituto di Scienze Neurologiche (ISN)

Consorzio Interuniversitario Istituto Nazionale Biostrutture e Biosistemi (INBB)
Engineering - Ingegneria Informatica
Etna High Tech
Istituto Mediterraneo per i Trapianti e Terapie ad alta Specializzazione (ISMETT)
ITALTEL
Parco Scientifico e Tecnologico della Sicilia (PST Sicilia)
Società Industria Farmaceutica Italiana (SiFi)
STMicroelectronics
Università degli studi di Catania

Dip. Anatomia Biologica e Genetica, Patologie Diagnostiche, Medicina Legale, Igene e Sanità Pubblica
Dip. Biomedicina Clinica e Molecolare
Dip. Fisica
Dip. Ingegneria Elettrica, Elettronica e Informatica
Dip. Scienze Chirurgiche, Trapianti d'Organo e Terapie Avanzate
Clinica Oculistica - Dip. Specialità Medico-Chirurgiche
Dip. Scienze Chimiche
Dip. Scienze Biomediche
Dip. Scienze del Farmaco

Università degli Studi di Messina

Dip. Farmaco-Biologico
Dip. Fisica della Materia e Ingegneria dei Materiali
Dip. Medicina Interna e Terapia Medica
Dip. Scienze della Vita "M. Malpighi"

Università degli Studi di Palermo

Dip. Chimica
Dip. Fisica
Dip. Ingegneria industriale
Dip. Scienze e Tecnologie Molecolari e Biomolecolari
Project Coordinator: Sabrina Conoci, Ph.D. 
Coordinator for CNR-IMM: Sebania Libertino, Ph.D.
More information can be found at Hippocrates