Primary tabs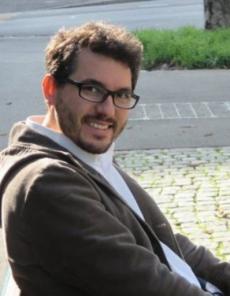 Activity:
Research interest:
Ab-initio code development at the density functional theory level;
Investigation of material properties and processes with first-principle electronic-structure methodologies (Density Functional Theory and Molecular Dynamics) and ab-initio structure predictions.
Systems of interest:
TiO2 surfaces and clusters for water splitting and electrocatalysis;
Silicon Carbide for power electronics;
Perovskite materials for solar cell applications;
Electrochemical solid-liquid interfaces.
Scientific lines:
Collaborations:
Dr. Luigi Genovese - Head of the Laboratoire de simulation atomistique (L_Sim), SP2M, INAC, CEA-UJF, Grenoble, France
Prof. Stefan Goedecker - Professor at the Department of Physics, University of Basel, Basel, Switzerland
Dr. José A. Flores-Livas - Researcher at the Department of Physics, Sapienza University, Rome, Italy
Granted projects:
Computational project at the Swiss National Supercomputing Centre, Centro Svizzero di Calcolo Scientifico (CSCS) "Effects of complex liquid environments on material properties". Two year project starting from 01 October 2018, 9.6 Milion cpu hours.
Project partecipations:
Active projects:​​
Past projects:

Investigator. Swiss NCCR MARVEL project - "Centre on Computational Design and Discovery of Novel Materials".
Investigator. Swiss PASC project - "ENVIRON: A Library for Complex Electrostatic Environments in Electronic- structure Simulations".
Investigator. ATEMOX - "Advanced Technology Modeling for Extra-Functionality Devices". European Seventh Framework Programme (FP7/2007-2013) under the grant agreement n. 258547.
Info:
Curriculum:
He got the Philosophiae Doctor degree in Physics cum laude at the Department of Physics, University of Catania in collaboration with the CNR-IMM of Catania the 01-02-2012 (viva voce defense). The title of the thesis was "Micro-structural modifications of semiconductor systems under irradiation: experiment, modeling and simulation analysis", developed under the supervision of Prof. Dr. G Piccitto and Dr. A. La Magna. During the PhD project he developed an atomistic kinetic Monte Carlo code for dopant-defects evolution during laser thermal annealing and a coupled Monte Carlo-Poisson method for the simulation of particle-particle effects in dielectrophoretic devices.
After his PhD, he has been Awarded of two research grants (post-doc) at the CNR-IMM in the field of process simulations of dopant-defects under laser annealing, plasma etching-deposition processes, light trapping and absorption in multilayer solar cells and Monte Carlo-Poisson simulator for colloidal systems, exploiting its atomistic and continuum modeling background.
In March 2014 he joined the Prof. Dr. Stefan Goedecker's group in Basel as Post-doc researcher. He developed from scratch an electrochemical library which extends first-principle electronic-structure codes to complex-wet environments. The library is able to solve both the generalized Poisson and the Poisson-Boltzmann equations, allowing to handle implicitly both neutral and ionic solutions in DFT calculations. He developed, parametrized and tested an implicit solvation model named ``soft-sphere''. He has been assistant for several courses, like computational physics and electronic-structure calculations.
After the Basel experience, he has been Awarded of one research grants (post-doc) at CNR-IMM of Catania, supporting the research tasks of the European Project H2020 "CHALLENGE" - 3C-SiC Hetero-epitaxiALLy grown on silicon compliancE substrates and 3C-SiC substrates for sustaiNable wide-band-Gap powEr devices. He applied ab-initio density functional theory calculations together with Monte Carlo simulations to silicon-carbide materials and nanosystems.
Starting from 28 November 2019 he is permanent researcher at the CNR Institute for Microelectronics and Microsystems (CNR-IMM) of Catania.
PhD Thesis: